Summer 2021 All Writing Workshops — Sunday Afternoons and Thursday Evenings via Zoom
The All Writing Workshop 
Choose 1-10 meetings from dates on Sunday Afternoons from 2-4:30 p.m. and/or Thursday evenings from 7-10 PM. Scroll down to see the list of dates.
For beginners to published authors, the All Writing workshop focuses on quieting your internal critic to express yourself freely. The facilitator structures the approach to writing and the discussion to ensure that everyone in the workshop feels included and at ease.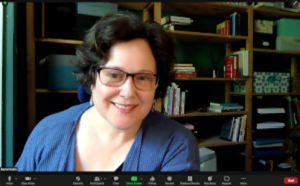 A workshop for writers of all levels
Write during workshop time
Discover or develop your voice
Gain confidence in your identity as a writer
Create new work or expand existing projects
Receive constructive feedback that highlights your strengths
Fiction · Nonfiction · Poetry · Screen & TV Writing · Playwriting · Blogs · Performance Sketches
This workshop emphasizes writing to prompts
The prompts are designed to inspire you, to get you started
Following the prompts is optional
No competition, no ridicule

No homework
To ensure quality, enrollment is limited to 12 including the facilitator, Rachel Kobin.
Note: If I can find an outdoor location (like a deck) within easy travel distance of everyone who enrolls, I will gladly lead the workshop there. Please contact me if you know of such a place.
Manuscript review is available in The Tuesday Night Workshop, The Manuscript Workshop, or via Private Editing Services.
Cost = $40 per night
Dates
Choose 1 – 7 dates. Pick any combination of Sundays and Thursdays. This is not a sequential workshop, so it doesn't matter when you start.
Sunday, July 18 — 3 spots left
Sunday, July 25 — 1 spot left
Sunday, August 1 — 3 spots left
Thursday, August 12 — 1 spot left
Sunday, August 15 — 3 spots left
Sunday, August 22 — 3 spots left
Tech requirements:
A computer or laptop with a video camera and audio so that you can be seen and heard.
Download Zoom from Zoom.us — it's free for you, and it's a light, unobstructive program.
Register Today
Where Can I Learn More?
See our Frequently Asked Questions and read writers' Reviews.
Page updated on 5/2/2021