The Story Structure Workshop via Zoom video conference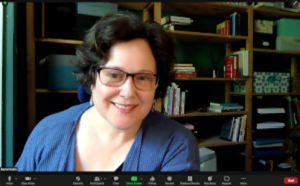 Via Zoom: three Tuesday evenings from 7-9:30
Tuesday, August 2
Tuesday, August 16
Tuesday, August 23.
In this interactive story structure workshop, you'll learn how to use dramatic story structure to make your reader want to know what happens next.
Over the course of the last thirty years, I've gathered resources on story structure from classes I've taken, conferences, and my own reading. I've combined and applied these approaches to make writing easier. I'll save you time and money by sharing the best of what I've gathered and used.
Everyone who participates in this workshop will read the novel The Vanishing Half by Brit Bennett and the structure book Save the Cat! Writes a Novel by Jessica Brody. Neither of these books is perfect, but this way, we'll all have a common point of reference. In fact, challenging them will be part of the learning experience. You'll leave feeling more confident about how to proceed with your project.
This workshop is for writers who:
have some creative writing experience but are stumped about what to do next with their ideas.
would like to write a short story, screenplay, TV script, novel, or verse novel.
have completed the first draft of your project and are about to revise it.
are stuck somewhere in their story.
Evening 1
We'll begin by looking at some of the simplest ways to develop character arcs (plot) and basic structure. Even if you hate planning,  you'll find this information useful as you write. For planners, you'll have a starting point.
We'll begin applying these concepts to The Vanishing Half by Brit Bennet.
Evening 2
Planners rejoice! We'll go over Save the Cat! Writes a Novel and discuss how it applies or doesn't apply to The Vanishing Half.
And pantsers (people who fly by the seat of their pants), even if you simply let this day's information wash over you and then proceed with your project without doing an ounce of planning, I promise you'll benefit from this day too.
Evening 3
You'll have the opportunity to send me a synopsis of your project, and I'll choose 1 to 2 for us to work with as a group. We'll see how we can help you, either with the simplest approaches or the more detailed Save the Cat! method. Listening and participating in this exercise helps everyone integrate the information and apply it to their own projects.
Price $295
Important
Arrive having read two books so that we'll all be able to draw from the same sources:
The Vanishing Half by Brit Bennett. (Don't be fooled by the length of the book. It's a page-turner!)
Save the Cat! by Jessica Snyder.
Use your local library or support your local bookstores at bookshop.org.
Once you've registered and paid, you'll receive all of the information you'll need to attend via email.